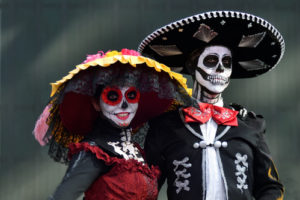 Dia de los Muertos ("Day of the Dead") is a beautiful holiday centered on honoring ancestors. It is celebrated every November 2nd. One of the highlights of the holiday is ofrendas, where living family members place pictures of their ancestors on a table in an important place in the house.  These photos are surrounded with candles, and some of the departed's favorite food and personal belongings.  I love how this holiday connects individuals with their ancestors.  It celebrates relationships, and almost mocks the separation caused by death.
To help illustrate what an ofrenda is, if someone were to do an ofrenda for me, they might leave blueberry buckle, a Boston Red Sox hat, a jar of honey with warm bread and butter, or a copy of Hemmingway's For Whom the Bell Tolls. If I were to remember my paternal grandmother (my "FarMor") at an ofrenda, I would place her favorite rocking chair next to the table, or the afghan that she knit for me, or a Swedish Horse.  These are some beautiful items to me; items that I'm fortunate to have in my possession.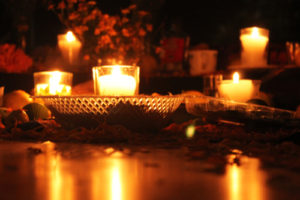 How do personal items, such as heirlooms, fit into an estate plan?
Personal items, such as my FarMor's rocking chair or the afghan are often disregarded in estate plans. However, people do tend to think about valuable property in their estate plan, property such as jewelry, artwork and artifacts of historical significance. Often several people who stand to possibly inherit those items are interested in being the benefactor of same items. Therefore, it is important to expressly state who will receive each item.
So how do you go about leaving those items in your estate plan?
A common method to leave items is through a Will. In many Wills, there is a section dedicated to describing who will receive certain items of Personal Property. (Personal Property means any property that is not Real Estate.)  This section lists those items, one-by-one, and should leave clear instructions of how those items will be distributed.
One important rule of listing personal property in a Will is that the items listed must be distributed in the order that they are listed, with the first item having priority of distribution over any item that follows it in the list. This rule can cause problems, especially when the items listed are not available.
To prevent the frustration caused by unavailable items, many individuals and estate planners prefer to have lists of items to distribute outside of the Will. These lists are given to the Personal Representative to reference when distributing personal property, but the lists are not legally binding. This mechanism allows the Personal Representative to have discretion if something is unavailable.
Another reason to have a list outside the Will is that the person making the Will may often change his mind. Having a list outside the Will would allow the direction to be adapted frequently without the formality of updating the Will.
If you have questions or concerns about how personal items will be left to your beneficiaries, please do not hesitate to contact the Law Office of Preston S. Franzen, LLC. You never know which items will be left on ofrendas for generations to remember you for decades to come.