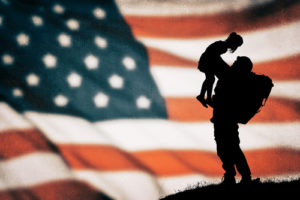 Daniel Joseph Daly was perhaps the most decorated serviceman in  American History.  Daly received the Medal of Honor twice.  First during the Boxer Rebellion; and then later in 1915 during the Battle of Fort Dipitie during the US Invasion and Occupation of Haiti.  Only a few years later he was again nominated for a third Medal of Honor for his bravery during the WWI Battle of Belleau Woods, action for which he was awarded the Navy Cross.  Coincidentally, this great Marine was born on November 11, 1873, a day we now call Veterans Day.
As Veterans' day approaches, we take time to think of the veterans around us.  While not every servicemember receives accolades, we are indebted to each of them for their service and their willingness to step forward and put country and democratic ideals before self.
Demographics of Veterans in the United States:
According to the Department of Veterans Affairs and Pew Research, in 2016 there were approximately 20.4 Million Veterans.  Those veterans account for less than 10% of the US Population.  The largest group of veterans are those who served in the Gulf War.  However, there are large numbers of veterans who served in Vietnam, Iraq, and Afghanistan; and a rapidly dwindling number of WWII and Korean War veterans.
Veterans benefits that impact estate plans and end of life planning:
Veterans are eligible for a large number of benefits from a grateful country, states, and municipalities.  There are also benefits earmarked for the families of Veterans.  Below are some benefits that could impact a Veterans' estate plan:
Veterans Cemeteries: There are some additional choices for veterans and their spouses.  There are three veterans' cemeteries in Massachusetts.  A National Cemetery in Bourne, and two state veterans' cemeteries in Agawam and Winchendon.  
Survivors Pension: Low income un-remarried surviving spouses and some children of deceased veterans may be eligible for a tax-free monetary benefit.
Home Loans: The Department of Veterans Affairs helps Servicemembers by guaranteeing a portion of mortgage loans to private lenders.  This allows the lender to provide more favorable terms; those terms can be lower interest rates, no money down, or grants to provide adaptive housing.
Property Tax Reductions:  Many states and municipalities provide property tax reductions to some veterans.
The Law Office of Preston S. Franzen, LLC offers reduced rates for Veterans, Surviving Spouses, and qualifying children.